Done in a Day Marketing Plan
Marketing works like compound interest.
Getting 10% better at marketing can give you much more than a 10% increase in business.
Lots of business owners avoid marketing — which creates an amazing opportunity for people like you, who are ready to make stuff happen.
A smart, well-planned marketing strategy gives you guideposts and guardrails. You have goals for the month, quarter, and year, and know what you're going to do to get there.
When that's missing you can find yourself trying a bunch of tactics and tools, with results that are often… mixed. At best.
That's not a great use of your resources. Let's make the most of your marketing.
Done in a Day
Together we'll create a marketing plan that works with your time, energy, and budget.
We'll take a look at all your stuck points. Friction with tech tools, scheduling, systems, confidence — those impact your marketing and business as a whole.
We'll create a plan that frees up time and brain space so you can focus on working on your business instead of burning out working in your business.
Who this is for:
You're a small business owner who's committed to social justice.
You're not a "marketing genius."
You're an ambitious introvert.
You want to stand out without burning out.
Your time and energy are limited.
You define success on your own terms.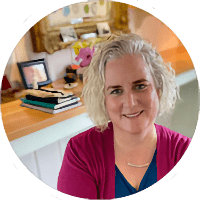 "With her blend of online, marketing, WordPress, and graphic design expertise, Stacey had just the skills I needed to integrate my online presence and make everything work just the way I wanted it to."
Deryn Collier
Author
How it works:
We start with a simple business info form to lay the groundwork for our session. Then you book a time in my calendar.
We sit down together (virtually) for a half-day session with breaks to keep our energy flowing.
We analyze what's working — and ditch what's dragging you down.
Then I create your plan, that you can put to work right away. That arrives within 3 business days.
What you get:
A fully documented, personalized 90-day marketing plan that includes a schedule, tactics, and tools — a smart, sustainable framework you can adapt and use going forward.
Your plan can include email, social strategy, newsletter/blog strateg — how and where you communicate best.
A recording of our Done In A Day session that you can review as many times as you like.
A 30-minute review call within 90 days to talk over what's working and what needs adjusting. You can reach out during that time via email if you get stuck on your plan.
What does a marketing plan look like?
It depends on you and your business. Here are a couple of examples:
Dana's marketing plan includes a regular social media posting schedule, automated email welcome sequence for newsletter subscribers, and a short weekly email newsletter that sends interested people to their online shop.
Ronnie's marketing plan starts with a personal  outreach system via LinkedIn, supported by a Customer Relationship Management (CRM) database. From there, email automation keeps their name top of mind when their prospects need their service.
Done In a Day pricing
Done In a Day Marketing Plans start at $995. (If your business has lots of moving parts we may need more time.)
About Stacey Cornelius:
If you don't already know me, I'm a seasoned business owner and marketing strategist with a BFA from NSCAD University and diplomas in information technology and graphic arts.
Founding my first business in 2005, I have experience in both bricks & mortar business and the online space. With years of experience in marketing, consulting, business operations, and teaching, my professional background includes retail consulting and management, technical theatre, web design, and my own jewelry design business.
I'm committed to social justice and lifelong learning — to be a good ally for people and the planet.
Frequently asked questions
Do we have to do this in a single half-day session?
I understand what it's like to have limited energy. We can break the "day" into two, or meet in the morning and then later in the day, depending on our time zones. If you need some flexibility, we work that out in advance.
Does the follow-up call have to happen at exactly 90 days?
There's lots of flexibility built into your marketing plan. It's smart to do a quick review every quarter or so. We can get together a little earlier if you need to — you have up to six months to book that call.
How do you manage time zones?
With flair! 😁 I'm GMT-3 (Atlantic) and have considerable flexibility for meeting times. 
Do you offer payment plans?
Yes, absolutely. If you need a bit of time to pay, we'll work that out. Once full payment is received, we book your session.
Do you offer refunds?
This is a real-time, in-person session with me. I don't offer refunds for services.
I have a marketing plan but I'm struggling to put it to work. Can I hire you to help?
The Agency of Words gratefully acknowledges that we are in Mi'kma'ki, the territory of the Mi'kmaq, comprising present-day Nova Scotia, Prince Edward Island, parts of Quebec, New Brunswick, Newfoundland, and Maine. The Mi'kmaq have been connected to this land and these waters for thousands of years and continue to be so in the present. We also acknowledge colonialism continues to do harm and pledge to work continually to be good allies.