Done in a Day Marketing Plan
A smart, well-planned marketing strategy gives you guideposts and guardrails. You have goals for the month, quarter, and year, and know what you're going to do to get there.
When that's missing you can find yourself trying a bunch of tactics and tools, with results that are… mixed. That's not a great use of your resources.
We work together to create a reusable 90-day marketing plan, complete with a schedule and process that works with your time, energy, and budget.
We'll also take a look at your stuck points. Friction with tech tools, scheduling, systems, confidence — all of these impact your marketing and business as a whole.
We'll create a plan that frees up time and brain space so you can focus on working on your business instead of burning out working in your business.
Who this is for:
You're a small or solo business owner who's committed to social justice.
You're not a "marketing genius."
You're an ambitious introvert.
You want to stand out without burning out.
Your time and energy are limited.
You define success on your own terms.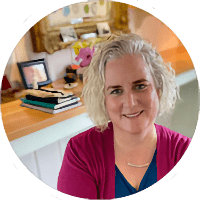 "With her blend of online, marketing, WordPress, and graphic design expertise, Stacey had just the skills I needed to integrate my online presence and make everything work just the way I wanted it to."
Deryn Collier
Author
How it works & what's included:
We start with a pre-work form to lay the groundwork for our session. Then you book a time in my calendar.
We sit down together (virtually) for a half-day session with breaks to keep our energy flowing.
We analyze what's working — and we'll ditch what's dragging you down.
Together we build a 90-day marketing plan that includes a personalized schedule, tactics, and tools. This is a plan for you, not a one-size-fits-all — a framework you can adapt and use going forward.
You get the recording of our call that you can review as many times as you like.
You get a documented marketing plan based on our work together so you can put everything to work. That will arrive within three business days after our session.
You get a 6-month membership in the Agency of Words Project Squad for weekly virtual co-working.
We'll get together for a 30-minute review call around the 90-day point, to talk over how everything went, what worked well, and what needs adjusting.

 
Done In a Day pricing
Done In a Day Marketing Plans start at $895. (If your business has lots of moving parts we may need more time.)
Power tip:
Marketing works like compound interest.
Getting 10% better at marketing can give you much more than a 10% increase in business.
And a reminder: Lots of business owners avoid marketing — which creates an amazing opportunity for people like you, who are ready to make stuff happen.
The Project Squad
Even the best marketing plan can go sideways if you're struggling to put it into action. If marketing is a little out of your comfort zone, it's easy to find other pressing business things that have to be done right now.
That's why the Project Squad isn't just an add-on.
It's an important piece of structure — a set appointment where you gather with like-minded people to get things done. Here are just a few ideas:
• Set up your To Do list for the week
• Plan or create social posts
• Draft an email newsletter
• Tidy your workspace
• Hang an OUT OF ORDER sign on your workspace door (or pin it to your shirt) and spend some time staring into space
Co-working time is all yours to do what you need to keep moving forward at a sustainable pace, side by side with other business owners. Show up late, leave early, camera on or off. Totally up to you.
About Stacey Cornelius:
If you don't already know me, I'm a seasoned business owner and marketing strategist with a BFA from NSCAD University and diplomas in information technology and graphic arts.
Founding my first business in 2005, I have experience in both offline and online spaces. With years of experience in marketing, consulting, business operations, and teaching, my professional background includes retail consulting and management, technical theatre, web design, and my own jewelry design business.
I'm committed to social justice and lifelong learning — to be a good ally for people and the planet.
Frequently asked questions
Do we have to do this in a single half-day session?
I understand what it's like to have limited energy. We can break the "day" into two, or meet in the morning and then later in the day, depending on our time zones. If you need some flexibility, we work that out in advance.
Does the follow-up call have to happen at exactly 90 days?
There's lots of flexibility built into your marketing plan. It's smart to do a quick review every quarter or so. We can get together a little earlier if you need to — you have up to six months to book that call.
How do you manage time zones?
With flair! 😁 I'm GMT-3 (Atlantic) and have considerable flexibility for meeting times. 
What do you mean by "creative and progressive" businesses?
I have a background in the arts, so I understand many of the challenges faced by folks running businesses in that world. "Progressive" points to social justice. My personal values are my business values: Every person is a person. I'm intolerant of intolerance. I don't work with people who are okay with systems of oppression.
Why do your sessions start at $895? And is it USD or CAD?
Every business is different, so $895 is the base price. If your business is bigger or more complicated than the folks I usually work with, we might need more time. If that's the case we'll talk about it beforehand.
As a Canadian, I can tell you the US exchange rate is kind of a nightmare. So if you live in the USA, you pay USD. If you live in Canada, you pay CAD. If you're outside of Canada and the US it's USD.
Do you offer payment plans?
Yes, absolutely. If you need a bit of time to pay, we'll work that out. Once full payment is received, we book your session.
Do you offer refunds?
This is a real-time, in-person session with me. I don't offer refunds for services.
I have a marketing plan but I'm struggling to put it to work. Can I hire you to help?
P.S. Already have a marketing plan but having trouble making it happen? I can work with you as a strategic partner to help you fix your stuck points and get you moving in the right direction.
The Agency of Words gratefully acknowledges that we are in Mi'kma'ki, the territory of the Mi'kmaq, comprising present-day Nova Scotia, Prince Edward Island, parts of Quebec, New Brunswick, Newfoundland, and Maine. The Mi'kmaq have been connected to this land and these waters for thousands of years and continue to be so in the present. We also acknowledge colonialism continues to do harm and pledge to work continually to be good allies.